Staying in our spacious and comfortable suites with a fresh and contemporary style offers a unique experience of complete relaxation. The modern finish, the comfort of the furniture and materials, the selection of colours, all this comes together in complete harmony and guarantees a comfortable stay. From your private terrace, you can enjoy panoramic views of the Atlantic Ocean, the pool or our gardens, which have been inspired by the style of Lanzarote.
Spacious & Comfortable Accommodations
From 61€
per night
Iron
Coffee/tea maker
Sink
Desk
Terrace
Television
Telephone
Air conditioning
Heating
Ceiling fan
Free safe
Free Wi-Fi Internet
Tiled floor
Capsules coffee machine
Dry-cleaning and laundry service (surcharge)
Rainfall shower
Transfers to nearby areas
Toiletries
Pillow menu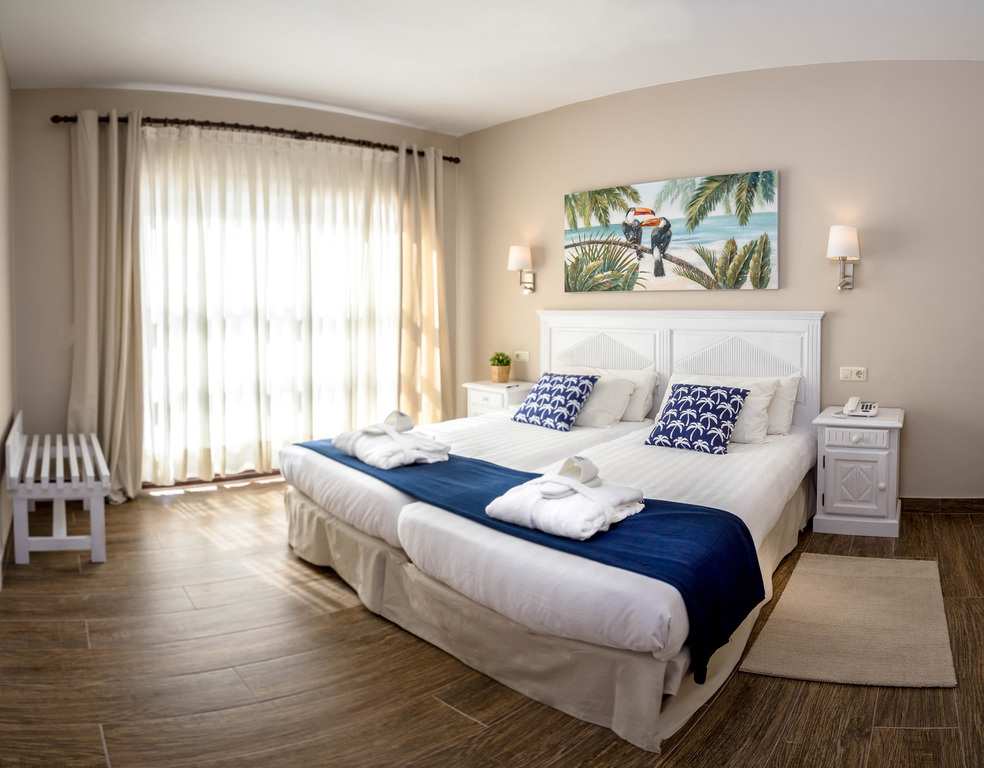 This 25-m2 room has a unique personality and is ideal for couples looking for relaxation in a modern, elegant and welcoming space. Recently renovated, it has an exquisite interior design with refined touches such as a wood-effect tiled floor, double bed with a memory foam mattress, bathroom with a rainfall shower, flat-screen television and all the details you need for a unique and memorable stay. It also has a private terrace with views of the garden Lanzarote style inspired. More information
Max. 2 people

25m2

2 single beds
Last booking: 6 hours ago!
Our spacious and comfortable 52-m2 suite with one bedroom is ideal for relaxing and enjoying an unforgettable holiday. This suite is elegant and modern and has an extensive lounge area, sofa bed, luxurious complete bathroom with a rainfall shower, as well as a separate kitchen. After a day of sun and beach, you can relax on the private terrace and enjoy the view to our gardens inspired by the style of Lanzarote. More information
Max. 4 people

52m2

2 single beds and 1 double bed
If you travel with your family and friends, this spacious Suite of 75 m2 completely renovated and equipped with everything you need is ideal for you! Our Premium Suite has a modern and elegant decoration with exquisite design furniture, a comfortable and spacious living/dining room, two independent bedrooms, a sofa bed, a luxurious bathroom with rain shower effect, and also, a full kitchen. The large private terrace is ideal to relax after a day of sun while enjoying the view of our Lanzarote style inspired gardens. More information